Hi,
I'm trying to test different transcoding parameters to increase the video quality.
First I looked at the doc to find where ffmpeg parameters are stored. I didn't find it, but read that they are hard coded in Peertube (exact ?). So I looked at the " PeerTube transcoding custom quality" plugin.
The READ ME of the plugin says :
This plugin creates a transcoding profile in which admins can decide the quality of the transcoding process.
In the web admin of the plugin, I get a dropdown menu with different value (wich I guess correspond to crf value send to ffmepg).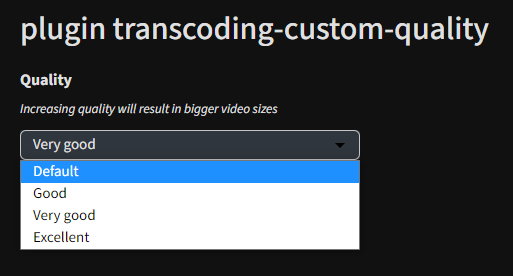 But changing it (for example to VERY GOOD) has no effect. (I've tried to restart my containers after the change).
The file size of the 3 resolutions I want is exactly the same as before. (1080, 720, 360 and audio only in HLS only).
So I'm wondering :
does this plugin work with Peertube 4.2 and higher ?

does it work for HLS, or maybe only for Webtorrent (which I don't do) ?

where can I find the transcode profile file created by the plugin to see what are the crf value (or other ffmpeg parameter) behing each value (GOOD, VERY GOOD, EXCELLENT) ?
Thanks for your help.