Hi, I'm running Peertube 4.2 for a public education company. The users are only employees, and they register through the SAML plugin.
Expected behavior :
I want all the new users to upload their new videos in « unlisted » state, so they can use it with direct sharing link if they need it quickly, but also have to wait for a moderation before their video get the « public » state and appears in our Peertube pages.
What I did :
So I've disable sign in with the Peertube login process, and install the SAML plugin. So I only accept user through the SAML autehtication → this seems to work as expected.
I've set the auto-block settings for all video, and in the user preference, the box to bypass the moderation seems unchecked for all new user creation. → I think I'm also good here.
I've also set the privacy parameter in the production.yaml so all new video get this value by default
defaults:
  publish:
    # public = 1, unlisted = 2, private = 3, internal = 4
    privacy: 2

With those settings, am I good to go ?
QUESTION 1 about privacy : strangely, the user is still allowed to manually change this default value during the upload process. I would like this privacy setting to be by default « unlisted » and to be changed only by a moderator or administrator. How to lock this ?
QUESTION 2 about moderation :
When a user upload a video, this one appears as « auto-blocked » (cf. capture below).
But I don't really understand what the « manual mode » of unblocking do.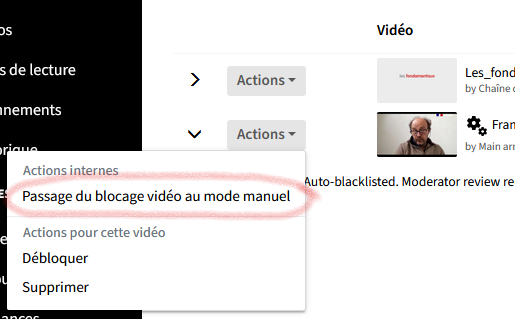 Thanks for your advices. Eric