Hi,
I would like to start a discussion about navigation user on PeerTube to maybe re-organize-it.
My questions and remarks :
First of all, in the left menu we have 4 links into MY LIBRARY: Videos, Playlists, Subscriptions, History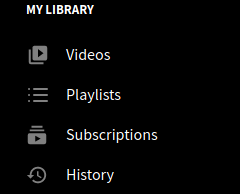 All of them (but Subscriptions that displays subscriptions, not settings) display have a prefix/my-account/* which is a little bit confusing, either all MY LIBRARY links should have their own view (like subscriptions) or MY LIBRARY should be renamed MY ACCOUNT ? in the last case we would want to see Channels and Imports.
The dropdown user menu is also confusing in some points.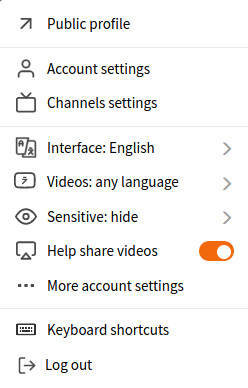 The Chevrons at the right of Interface:Lang, Videos:any language, Sensitive: display are weird there, we wait for unfold another menu but these all are links;
Accout settings and More account settings are exactly the same link, it's a little bit redondant;
We have a Channel settings link, why not Videos settings ? Subscriptions settings ? …
/my-account/*navigation organisation is confusing.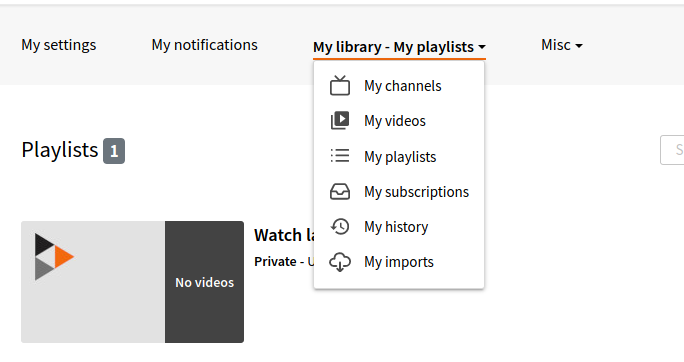 My settings concerns general settings
My notifications concerns the notification view
My library > * concerns settings / managements of my library components
Misc concerns moderation blocklist and Owernship changes
I'm thinking about a re-orgnaization :
Ownership changes could be placed in the left menu MY LIBRARY
Miscrenamed to My Blocklist
Dropping My library and put all links to the left menu, their url could be replaced with /my-library/* prefix
Delete Channel settings link from the dropdown user menu though it will be placed to the left-menu
Delete Account settings or More account settings duplicated link from the dropdown user menu
Delete chevrons on dropdown user menu's links
What do you think about these remarks ?