Hey,
As you might remember, I started long ago; in june 2018 a work on designing a mascot for Peertube. It all started with polls over social medias, and the first confusion I massively seen was audience mixing logo and mascot. So, for starting this thread on good base:
"A mascot is any person, animal, or object thought to bring luck, or anything used to represent a group with a common public identity" ~ Wikipedia mascot page
I like mascots, they make documentations funnier to read; they decorate contents sometime a bit too serious (404 pages, error messages), they also creates item to collect or to wear.
So, it started like that:
and quickly the poll elected the tiny octopus
but I wanted to push the design further, and get something a bit more in relation with the logo. But I just get confused, not happy about the design and about my art technique for rendering it. Also, the test of the cubic TV on left was misunderstood to be a microwave from the generation who knew only flat TV and monitors.
I eventually continued later on my sketchbook with tests until I finally was happy with this one:
The latest mystery for me was "how to render it?". If I paint it; it will be hard to maintain because I would be the only one to generate new derivation of the mascot, and for sustainability of the design, I disliked the idea. It took time until I realise I should try with Inkscape with flat vectors.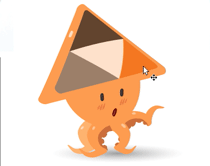 This way, all the parts are easy to combine, rotate like a muppet made of paper shapes.
The source SVG is here:
https://www.peppercarrot.com/extras/temp/drawing.svg
I plan to release it under the same license than Peertube, GPLv3.0. I usually goes with CC-By but I don't want to be attributed on any usage of the mascot.
What do you think about it?